A few weeks ago at the Gardens, thousands of little wriggling tadpoles were spotted in the pond by the Meditation Garden. Seeing so many tadpoles was almost unsettling as the pond almost seemed alive. I was absolutely fascinated – and had to follow these little guys as they embarked on their journey, and along the way, I learned so much about tadpoles, frogs, and toads.
The image above allows merely a glimpse into the sheer number of tadpoles in the pond. Looking closely, the tadpoles can be deciphered between frog and toad with one easy observation. The toad tadpoles remain pitch black, while the frog tadpoles have some speckling or spotting on them. However, aside from the appearance difference, they all eat the same thing – organic plant matter! These little fellas chow down on just about everything in sight, including duckweed, algae, and any other organic matter that's accessible. They also sleep in little "tad-naps" at all hours of the day because tadpoles are an ideal snack for life of all kinds around the pond.
A few days passed, and it seemed to be almost overnight that the trails came to life as we had little jumping froglets all around the pond and on the land. They were so small that they could jump around on top of the duckweed (image below).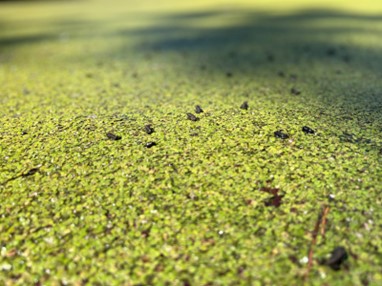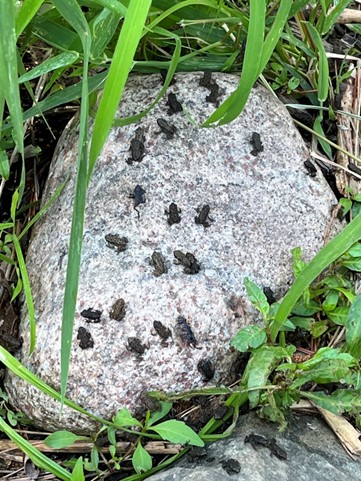 I could confidently distinguish at least two species of frog and toad – although I'm sure there are at least two more species. One is a mink frog, and the other is an American toad! The coloration of the froglets was how I was able to differentiate, and it was definitely helpful that the mink frog queen of the tadpoles made an appearance one of the days.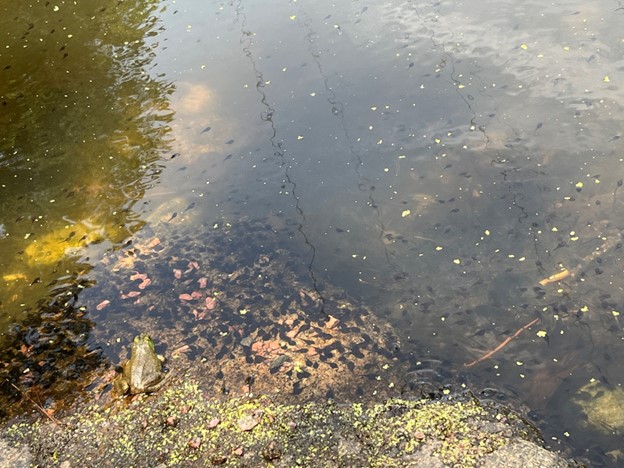 This is an important reminder to always stop and look around because nature is always there to surprise and astonish you. Life springs up all around us, and I'm so glad I got to witness it. Hopefully, as the little froglets grow, we'll be able to ID all of the species, but until then – take a little note from the froglets. Even if you miss your next branch, and fall flat on your back, don't be afraid to get right back up and keep on hopping.
Written by Horticulture Intern, Anna Novak